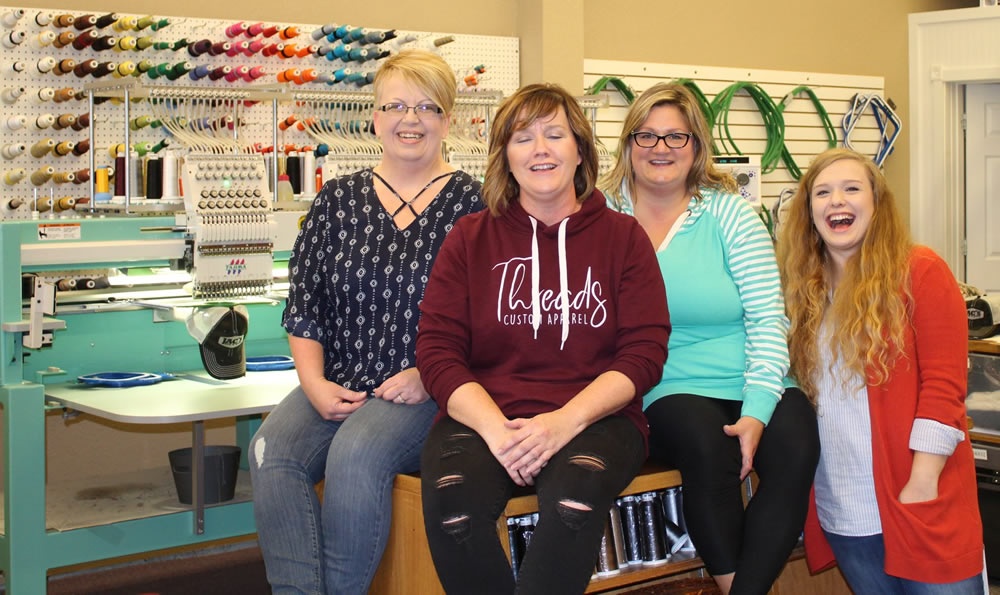 The Owners
Lisa and Mat Vaupel purchased Chosen Valley Threads in 2012 and changed the name just bit to Threads Custom Apparel. The Vaupels knew the store was a well-known established business with great potential. They've worked to continue and build through reliable quality service.
Lisa and Mat live with their two sons on the the family farm just west of Stewartville. Lisa is the the face you will see when you stop into the store and Mat is considered a "silent" partner as he travels the countryside as a crop insurance adjuster and a farmer outstanding in his field.
The Staff

We've told you about Lisa Vaupel. She can help you with anything you need, as you know, she's been there since the beginning! Her experience all started in the small newspaper business designing ads and laying out the newspapers. That is where she became interested in designing t-shirts – sounds like fun right? Of course there is a lot more to it and she's still learning everyday. The team always laughs at Lisa as she shirks at being called "the boss".
Next up is Jennifer McCurdy. Jennifer is commander 'n' chief of all things embroidery. She handles all embroidery service from start to finish and will walk you through anything you need. A great personality, fun sense of humor, and a remarkable memory keeps the place hoppin'. Dependability and support are just two of the many qualities that make her invaluable to Threads' success and Lisa's sanity. Jennifer resides in the wilderness known as Wykoff with her husband and son.
Jennifer Halvorson is the newest member of the team that we didn't know we needed. She popped in one day offering her help with a project and simply never left. She helps with just about anything, eager to jump in, learn and help out – we just hope a squirrel doesn't happen by. A really quick wit and sense of humor that is second to none. We've decided she's an asset as she seems to know just about everyone who walks through the door.